5 Quick Easy Holiday Tips
5 Quick Easy Holiday Tips
The days are getting shorter, weather's getting colder, Christmas is coming!
If you're really wanting to be purposeful, positive & intentional during this holiday season with your kids & family, these 5 tips can help:
Why Experience Gifts Rule!
Tech – Ways to Keep it Healthy
Craft, Art or Science Subscriptions
Being Ok with Kids Asking for the World
Ideas on How to Have the "Santa Talk"
---
Experience Gifts Rule! 
Memories with our kids will ALWAYS take the cake over physical "stuff" so get creative with what "experiences" you can give this year. This blog post (from a few years ago) will give you a few ideas!
Our list this year that we'll be surprising our kids with includes:
A family snowboarding trip to the mountains (it's going to be interesting to see how the resorts make it work this year, but I know they're going to make it work!) 
Tickets to a drive through concert for our family to enjoy some live music & also a 'Stranger Things' drive through experience for my teen daughter
Season tickets to the San Diego Zoo / Wild Animal Park – our family LOVES animals, if if we have to wear masks throughout the park … my kids are going to be so pumped on this gift! 
A family trip to the our local luxury theaters (my dream come true is reclining seats, a good flick & holding hands with my kids and / or sweet hubs). Thank goodness theaters are open again! Are they in your area?  
Nothing will ever quite live up to the year we gave our kids: 
a family trip to Ireland to see Metallica perform at a Castle
Yep … a CASTLE! It was a dream come true for all of us! We got to see our family's favorite band: Metallica and also meet all of my cousins, as well as see the huge dairy farm my family still owns to this day. 
Another big bucket list destination is Jerusalem to see the Holy Land at Christmas … one day, a gift for another year!
What kind of experience gifts can you think of this year? I know it's a weird season & so many things aren't open, but many towns have re-opened their zoos and even museums on a limited admission / reservation policy. 
If you're still concerned about Covid (I feel ya), consider making coupons to take your kiddo out for a one on one date to get pizza & ice cream to go. Eat it in the car together & then have a special movie date when you get home where THEY get to pick out the movie & get ALL of your snuggles & attention, alone. Trust me your kids will love this & remember it for a long time! Give the experience a fun name & be sure to create a coupon that they have to redeem. 
Another idea is that many cities have bike rental vendors … give your kids a one night getaway where you stay in a hotel together in a new city (that's a car drive away) and adventure through the city together, getting takeout from cute cafes then snuggling in a hotel bed watching movies at night. Kids LOVE adventuring in new cities, it doesn't really even matter what city, just something new will excite them deeply! 
---
Tech – Ways to Keep it Healthy 
I know it's really hard to navigate tech boundaries with our kids (which is a whole different positive parenting lesson series), but here's some ideas to keep presents healthy if you are going to gift "tech".
If you give a phone or i-pad or laptop, label it as a family gift that Sally gets to be in charge of as long as she can keep agreements about using it responsibility. Should they forget the agreements, the phone / ipad / laptop will take a "charging break" or be used for other family business until Mom / Dad feel like it's time to "try again".

Example: To The Snyder Family (care of Sally), Love, Mom & Dad (or Santa)

Teach kids how to "self-manage" screen time if you're going to gift any kind of screen for Christmas. Make an agreement & let them be in charge of the management system. Check out episode 19 of the Fresh Start Family show for more info on this topic!
Keep tech OUT of the bedrooms – yes, NO tech in the bedrooms from day ONE if you can. Common spaces like the living room, the kitchen table, the playroom, etc. are fair game, but resist the temptation to let kids take electronics into the bedroom.

If your kids are using tech in their rooms already & still young, have a talk with them to say "this year, we've got some new rules that we need to agree on in order to keep tech devices around". Transitioning can be tough, but trust me on this one parents, tech in bedrooms is asking for trouble & just NOT something our kids NEED to be happy.
Give them a phone that plugs into the wall to be able to talk to their pals (do you remember how awesome talking to your friends was for hours when we were young?), but keep the devices that have games, texting & social media OUT of the bedroom.
Resit the urge to give tech for as long as possible! Yes, I know this is hard. Kids will beg you for video games, phones, i-pads, computers, etc. but trust me, they are going to get PLENTY of this stuff in their life. What they really want is time with you doing something fun. Save yourself some money & heartache by saying no in a firm & kind way to tech for as long as possible & let them pick out a killer experience gift instead!
If you want to give your child a phone, consider the GABB Wireless Device, my FAVE recommendation for families who have kids under 14. This phone is super affordable, gives your kids the ability to text & call (and take pictures), looks JUST like an iphone, but does NOT have all the apps & internet (phew, trust me parents, keep this stuff away from your kids as long as possible!) click HERE to learn more about GABB & use code FRESHSTARTFAMILY for $10 off! 
---
Craft, Art or Science Subscriptions
Kids LOVE to get mail, so hook them up with a few months of exciting craft/activity boxes to look forward to!
My current favorites are:
---
Being OK with Kids Asking for the World 
We ALL want kids who are confident enough to ask for what they want, instead of complaining about what they don't have, or having a victim mentality of "woe is me", right?
One sign of a healthy self-esteem is being able to ask for what you want & think that you are deserving of having it. So let's use the holidays to encourage them to shoot for the stars!!
Want a sports car? Put it on the list!
Want a $450 RC truck? Put it on the list!
Want a season pass to Disney? Put it on the list!
Want a 6 pack of Coca Cola? Put it on the list!
Want an American Doll that costs more than a nice date night meal out? Put it on the list!
Want a giant trampoline for the back yard that doesn't even fit in the yard? Put it on the list!
Now, I am am major work in progress in this department, but can you imagine if we just encouraged our kids to be ok knowing what they want, but also be rooted in solid, firm understanding that they won't always get everything they want?
It is ALWAYS ok to dream & their list is something that they are in complete control of.
Absolutely no need to micro-manage it parents. Yes, might they be a little disappointed on Christmas morning if they don't get the $289 hot wheels track? Yes, but that's ok … we all get disappointed sometimes, but it doesn't mean you have to stop asking for what you want or dreaming big!
---
Ideas on How to Have the "Santa Talk" 
I recently posted on Social Media that I thought it was time to break the news about Santa to my lil 8 year old son. Your comments on this Facebook & Insta post & stories of your traditions & ways you've handled "Santa" were so good!
Loved how many of you never even entertained the idea of Santa in your homes (kudos, love this!) and others had fun with it, but didn't really make him the center of the celebration. In our home, we have tried so hard to make Jesus' birthday the big deal-io, but honestly, have totally done the cultural Santa thing too.
It was just so darn cute to see them so excited about him over the years!
Looking back, I'd probably do it differently & just always teach he was a "myth" but still have loads of fun with him as a character, but that's not how it went down! So now, we're at a crossroads & deciding when the time is right to let the lil guy in on the truth.
If you've entertained the whole "Santa thang" at all over the years, at some point, the time will come to have "the talk" with your kids. Yes, kids can find out on their own from their pals, but I'm a big fan of taking your kiddo to a special breakfast, on a special star lit walk, or to a special hot cocoa date to tell them the truth.
I found this letter on the good ol' internet a few years ago (originally written by Martha Brockenbrough) & used it when i took my daughter to a special "Santa Talk" breakfast when she was 9. I think it may be time to print it out for my son soon … you may find it helpful too : )
I've noticed that lately, you may be contemplating the question of "Is Santa Real? or even "Are you Santa Mom?"

I think you may have wanted the answer to this question for a while now, and I've had to give it careful thought to know just what to say.

The answer is no. I am not Santa. There is no ONE Santa.

I am the person who fills your stockings with presents, though. I also choose and wrap the presents under the tree, the same way my mom did for me, and the same way her mom did for her. (And yes, Daddy helps, too.)

I imagine you will someday do this for your children, and I know you will love seeing them run down the Christmas magic stairs on Christmas morning. You will love seeing them sit under the tree, their small faces lit with Christmas lights.

This won't make you Santa, though.

Santa is bigger than any person, and his work has gone on longer than any of us have lived. What he does is simple, but it is powerful. He teaches children how to have belief in something they can't see or touch, like Jesus, love & kindness. 

It's a big job, and it's an important one. Throughout your life, you will need this capacity to believe: in yourself, in your friends, in your talents, in God and in your family. You'll also need to believe in things you can't measure or even hold in your hand. Here, I am talking about love, that great power that will light your life from the inside out, even during its darkest, coldest moments.

Santa is a teacher, and I have been his student, and now you know the secret of how he gets down all those chimneys on Christmas Eve: he has help from all the people whose hearts he's filled with joy.

With full hearts, people like Daddy and me take our turns helping Santa do a job that would otherwise be impossible.

So, no, I am not Santa. Santa is love and magic and hope and happiness. I'm on his team, and now you are, too.

I love you and I always will.

Momma
---
Raising A Strong Willed, Intense or Sensitive Child? If yes, I have a FREE guide for you!
This free planning worksheet will give you ways to build connection & ideas on how to work WITH them instead of trying to change them. Click HERE to get your free worksheet now.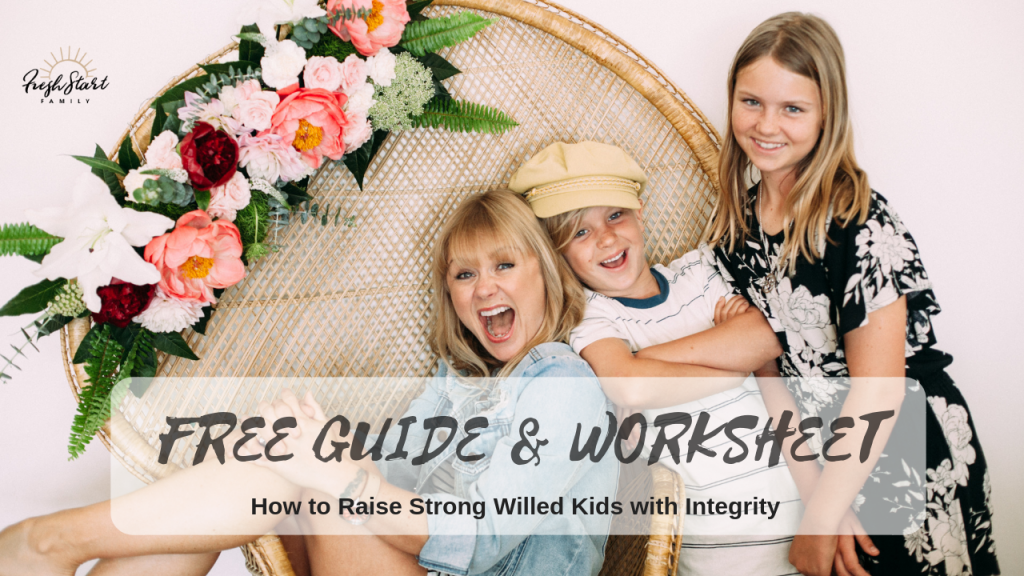 Learn more about how Positive Parenting Curriculum can transform your life through these Fresh Start Family programs