Darkness Amidst a Season of Light? Ways to Prepare Well
Darkness Amidst a Season of Light? Ways to Prepare Well
.
It was a time when Christmas was a season of overwhelm for me, filled with feelings of anxiety, anger & fear.
.
I wanted to desperately to be happy, to not be so angry at my daughter, to feel joyous & grateful for all of the wonder & gifts around me, but I was scared that this was always going to be the way things were & that I'd never get out of the parenting pit I was stuck in.
.
That was almost a decade ago and when you look at pictures from that time, you'd never really know.
.
.
I was in the best shape of my life, I had a hot husband who was the most supportive guy on earth & said "YES!" when I asked "Babe, what do you say if I leave my corporate career & salary to stay home with the kids?" and I had a beautiful home a mile from the ocean in sunny, San Diego, CA.
.
Plus, I had ALWAYS been good with kids, so staying home full-time with my own two was going to be a breeze right? WRONG!
.
As the Christmas season approached, I remember thinking, "There's so much light & love all around me, but in my own heart I feel dark … irritated, annoyed, negative, angry, hopeless … what is wrong with me?"
.
.
As the years passed and this incredible curriculum of Positive Parenting transformed our family life COMPLETELY, I realized it was just a giant time of transition for me. Fast forward nearly 10 years and I've never been happier in my entire life, more connected with my kids & more in love with my husband. The valley was incredibly hard, but also one of tremendous growth for me.
.
I think parenthood is a giant transition time for most of us.
.
.
A time when we go from thinking …"We kind of know it all" (let's be honest) … to being completely humbled by the reality of how hard it is to raise little human souls with true integrity and joy.
.
The good news is that this transition is GOOD for us.
>>> Challenging our morale character to it's core is GOOD for us.
>>> Stretching us to grow in humility, patience, compassion, grace and TRUE influencing skills is GOOD for us, GOOD for the world.
.
But IT. IS. HARD.
---
​​Perhaps you're in this hard dark season right now, where many of your days include feeling:
.
>>> ​EXHAUSTED
from babies who still need you at 2am, to toddlers who just can't stay in their bed all night to kids who seem to melt down every evening at bedtime
from begging, pleading, correcting, scolding, or repeating things to your kids … all. day. long. every. day.
>>> OVERWHELMED
from trying to do it all, fix it all, teach it all, keep it all in order
from ALL the activities, needs, challenges, and misbehaviors that demand your attention.
>>> ANGRY
that you have a child that pushes back on everything
that your kids can't sit still for a meal
that every morning is like groundhogs day when bickering & arguing & tears are abundant when trying to get out the door to preschool, work or daycare.
>>> FEARFUL
that your kids may grow up to be total brats if you don't figure out how to get them to change, soon.
that maybe you're not cut out for this, that maybe you just aren't good at parenting
that you're doing it all wrong but you have no idea what to do
>>> ANXIETY RIDDEN 
that others are judging you when you're kids misbehave at the grocery store or any public space
that holiday meals & gatherings are going to be embarrassing and awful because the kids will probably tantrum & be wild at some point
>>> IMPATIENT
when you want so hard to just smile at their silly, sloth like behavior when you ask them to put their shoes on, but instead you snap & consistently yell "HURRY UP" or "GET YOUR SHOES ON NOW OR ELSE…..".
when a challenge arises and you want to slow down and work it out with your kiddo, but instead just habitually jump to reacting, scolding & threatening because it's just taking TOO long
>>> NEGATIVE
when you seem to easily see ALL the things that are wrong with your child, but realize you don't spend as much time pointing out all the good things
when you talk to your friends and use words like sassy, disobedient, wild, naughty and insane to decribe your kid who seems to be always butting heads with you.
when your spouse gives you a hug & asks you after a long day, "How was your day babe?" you laugh and say "Well, I survived, but it was pretty awful."
>>> CRITICAL
when you realize you're really good at pointing out every flaw your kids have; the ways they wash their hands wrong, the way they talk to their siblings, the way they ask you for milk, the way they make their bed, or talk to their grandparents.

​of your spouse when they do things a bit different than you & it just seems likes your way is better. 

of yourself & half of the things you do each day with your kids … as you lay your head on your pillow at night, you see all the ways you could be better. 
---
​​If you said yes to any of these, YOU ARE NOT ALONE. I am here to help.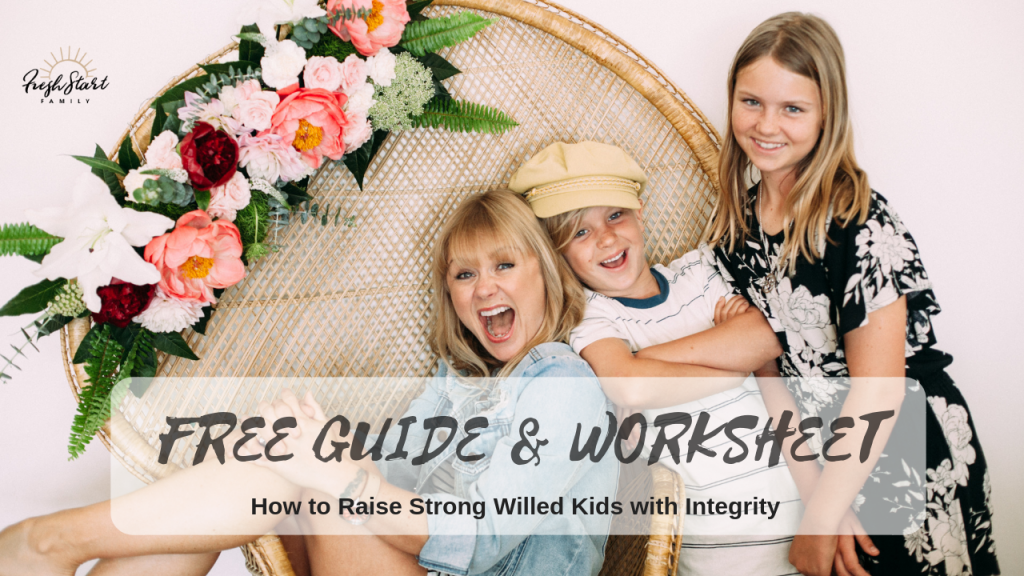 This free planning worksheet will give you ways to build connection & ideas on how to work WITH them instead of trying to change them. Click HERE to get your free worksheet now.
I've been through the valley & am on the other side & IT IS BEAUTIFUL … worth every bit of effort it will take for you to get there.
.
These kind of supercharged feelings are always tricky to navigate, but especially during the holidays when we have giant expectations of flawless family gatherings, joyful kids unwrapping gifts they're grateful for, children staying present (& off devices) & toddlers sitting still during Christmas services.
.
Ha! Often NOT the reality of holiday life, would you agree?
---
​Christmas is a BEAUTIFUL time of year, but:
we STILL get triggered by our littles
we STILL get angry when they won't listen
we STILL get fearful that our relatives will judge us for trying to teach them with kindness instead of smack them
we STILL get anxiety that we'll be the ones with the kids melting down at church
we STILL don't know what to do when the day seems ruined by misbehavior & it's only 9am!
we STILL get scared we won't be able to be kind to our own children on Christmas day when we WANT to celebrate the Prince of Peace, but are irritated & annoyed at our kids' behavior.
Fear, anxiety & anger can create darkness that we often don't talk about to begin with, let alone during the Christmas season when we think everyone ELSE is enjoying peace & connection with their family.
.
The truth is EVERYONE is having imperfection in their home & just doing their best to enjoy the season & honor Jesus with true respect & love.
.
As parents we NEED to prepare ourselves for ways to manage these strong emotions. Not control, but manage. When we're proactively prepared, we have a much better chance of moving through them fully (instead of running from them or denying them) and taking actions to take care of ourselves & the situations at hand … in ways that we will be proud of at the end of the day when we lay our heads on our pillows.
.
A decade after the time I described above, I am now in a season where I feel FULLY equipped to handle the normal ups & downs of parenting on any day, but especially at Christmas time. Even amidst visitors, family functions, overpacked schedules, tired kiddos, and a bit of stress to make Christmas GREAT … I feel stronger then ever as a parent & more connected than I've ever been with my spouse & children. I want the same thing for you families!
---
Click HERE to read my full Mother.ly article on 9 Phrases to Manage your Fear & Anxiety & Become a More Peaceful Parent. 
As we grow tiny souls in our bellies, it's much more exciting to take breastfeeding classes, a birthing course, or even DIY wallpaper classes at Home Depot to plan the perfect nursery… but planning for fear, anxiety and anger? Not so much.
At least that's what I always thought before real humans (who quickly turned into toddlers that screamed "NO" with explosive tears and meltdowns), were actually entrusted to my care.
I had always thought I'd handle parenthood with total ease and calm because that's who I was. I had always been great with kids, but we all know it's different once you have your own, a lesson I definitely learned when things took a sharp turn south for me as a mom the year I had my second colicky baby and my first child's strong-willed soul reached its record-breaking peak at age 3.
Fear, anger and anxiety became my everyday go-to emotions, and my back-breaking norm.
After working with thousands of parents through the years, I know that these three strong emotions catch a lot of moms by surprise and it makes sense. Most of us didn't grow up in homes that taught us how to take care of ourselves and act with integrity when we got angry, felt anxious or were scared of something.
We grew up thinking happy was good and sad, angry and scared was bad. Do anything to avoid those and if they did come up, get out and away from them fast.
Building a solid preparation kit for how to identify and manage these strong emotions is essential in finding more peace in parenthood.
Many times, when a strong feeling of anger, anxiety or fear pops up, we have zero space between the stimulus (misbehavior) and our reaction. When we react so quickly, we squash our chances of purposely planning our next steps.
When something triggers you, take notice of your blood boiling, or your urge to yell, or your teeth clenching… and just pause to practice a heart connector. Put your hand on your heart, take a deep breath and find a healthy intention (to teach, to model, to redirect), then respond to the challenging situation.
It can be so easy to think we know what is going on, but often, our kids are here to teach us just as much as we are teaching them. When we slow down to "seek to understand" why they're upset, or the reason behind a sibling squabble, or the feelings they felt when they talked back, we open our hearts to working with our kids and many times get surprised by what we learn.
Trusting that our kids are not out to get us, but instead just figuring out how to live this thing we call life, leads us to want to understand them versus assuming we know their negative intentions.
We were kids once and we've all had those times in life where you just hated having a little brother, or just really disliked math, or really, really wanted to have soda with dinner every night.
Exercising your empathy muscles will cause you to feel connected with your kiddo and will do wonders to soften your heart while also helping your child feel understood (causing them to listen and behave better).
Our feelings are meant to be felt, but since many of us didn't grow up with this truth, it can be easy to skip over them and move right to actions we regret when we feel angry, anxious or scared.
Slowing down to say aloud how you feel helps your brain remember, This is a feeling and I have a choice with how I process and manage it. Saying your feelings aloud also models to your kids what healthy emotional intelligence and management looks like.
When we get angry, we can create a pseudo sense of power with actions like yelling, controlling or forcing, that later make us feel guilty and shameful. Combining verbiage of "I feel like…", with "I want…" will help you feel powerful at the very same time you are feeling powerless (which will lead to you feeling better).
Asking for what you want is important to model for your kids too as we want our children to grow up being able to ask for what they want instead of always telling people what they don't want.
It's beyond easy to get caught up in the busy rat-race style of life where every day is a rush, every moment of the week is filled, and every situation needs to be handled in a rush.
But it's important to slow down and think through the way we show up, especially when challenges arise.Rushing through conflict resolution doesn't work well. Effective problem solving takes place once we are calm, so be sure you and your children have built a self-calming bag (a tool taught inside of The Fresh Start Family Foundations Course) to use when you feel anxiety, fear or anger rising. Step to the side, do some things to take care of yourself and then come back to the situation when you're ready to be a teacher.
Many parents jump off the train way too early when trying new positive parenting tools.Kids (just like adults) often have trouble transitioning to new things. Switch it up and everyone gets a little confused.
First time application can be like a new deer learning to walk with shaky legs. Slipping and falling is part of the journey but doesn't mean it's not working. Expect messiness, embrace messiness, learn from messiness, keep trying.
Silence and fewer words can be incredibly effective at getting kids to listen, especially if they're used to an adult who yells when angry. Raising our voice can be exhausting, so save your energy and instead use it to walk up and look your child in their beautiful eyes and touch them softly on their shoulder or offer a warm hug.
The connection this process brings will help bring you down to room temperature with your emotions while also moving your child to listen and cooperate better.
Beating ourselves up over our moments of complete messiness doesn't help us learn and grow. When you try new things like:
…acknowledge your courage and success. Share with someone how proud you are of yourself and how much work it took to even try some new things with your kids, emotions and parenting.
Writing in your journal each night is a great way to do this, or even saying to yourself while you brush your teeth three things you slayed today will help you see your magnificence and remind you that even amidst anger, fear and anxiety, joy and growth can exist.
Learn more about how Positive Parenting Curriculum can transform your life through these Fresh Start Family programs