Episode 30: Domestic Violence Awareness & Prevention – An Interview with Sara Afshari
Episode 30: Domestic Violence Awareness & Prevention – An Interview with Sara Afshari
On today's show, Wendy and Terry interview their friend, Sara Afshari, who is an instructor for Your Infinite Life Training and Coaching Company. Sara's experience in an abusive relationship led her to where she is today – dedicated to helping others & coaching them to be their best selves.
Sara has a successful career in the field of accounting, but it's her involvement in life coaching along with her volunteer work as a crisis contact for the organization No Silence No Violence that gives her passion & purpose in life.
Sara's goals are building awareness around Domestic Violence, breaking the silence surrounding related PTSD, depression & anxiety and shattering the stereotypes of what sort of men and woman fall victim. She is proud to stand as an example of the power behind emotional development, self-awareness and self-love.
In this episode Wendy, Terry, and Sara discuss the importance of parents becoming aware of relationship abuse, specifically ways to be proactive in preventing it from happening within the next generation.
---
On today's episode, 3 topics related to preventing relationship abuse are covered:
Teaching kids what a healthy relationship looks like starts in the home

There does not need to be any level of hurt, fear, or force in a healthy relationship, instead the goal is mutual respect
When raised in an environment of mutual respect & connection, kids grow into adults who can sense when they're in a relationship that is abusive & they know that it is not okay
Parents should strive to be honest in front of their kids & model conflict resolution in a respectful manner

Getting comfortable sharing the good and the bad with your kids should start in the home from early on

Mistakes are a learning opportunity & we can choose to model what it looks like to take responsibility for our own mistakes
When shame & fear of consequences are removed, kids are more likely to admit mistakes, makes amends, share with their family what they're learning & what they'll do differently next time
Get in the habit of communicating openly & listening intently to your kids from a young age (start with the high/low exercise everyday)
Focus on empowering your child & being his advocate instead of rescuing, punishing, or fixing his problems

Children learn their value from a very young age through their family

Take the time to ensure that each person in your family unit knows their value simply by being a member of the family
Practice "I am statements" with your child by telling her who she is, not how she looks or what she does or doesn't do, but the positive attributes you see in her – kind, creative, strong, etc.
Build kids up at home so they aren't looking to tv, social media, or their peers to give them their value & worth
---
Mentioned in this Episode:
---
Would you love to yell, threaten & bribe your kids less, & connect more? Interested in learning tools that will make your kids listen better & cooperate more? Would it feel fantastic to spend your days connecting more & correcting less?
---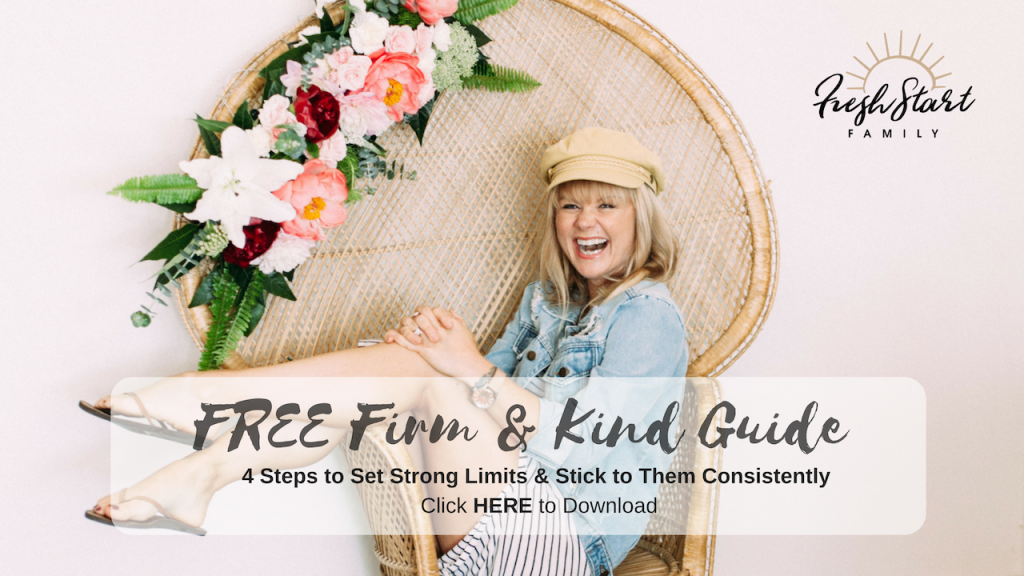 Click HERE to grab a FREE guide will help you reach that middle ground of Firm AND Kind that will bring you the cooperation & connection in your home you deserve & desire!
---
Learn more about how Positive Parenting Curriculum can transform your life through these Fresh Start Family programs
Want to see what Positive Parenting looks like #IRL? I love to stay active on both Instagram & Facebook, giving you guys a glimpse into my real family life!